Our Port Saint Lucie Golf Car Dealership
Beachside Golf Cars, located in the picturesque city of Port St. Lucie, Florida, is a premier golf car dealer that has been serving the community for years on end. Situated in close proximity to renowned golf courses and upscale communities, we have established ourselves as a trusted and reliable source for top-quality golf cars and related services. 
With a commitment to exceptional customer service and a diverse selection of golf cars, Beachside Golf Cars has become the go-to destination for golf enthusiasts and property owners alike. 
Discover the finest selection of golf cars in Port Saint Lucie, Florida, at Beachside Golf Cars! Whether you're a dedicated golfer looking to enhance your on-course experience or seeking a versatile vehicle for neighborhood cruising, we have the perfect solution for you. Get in touch with us today for more information!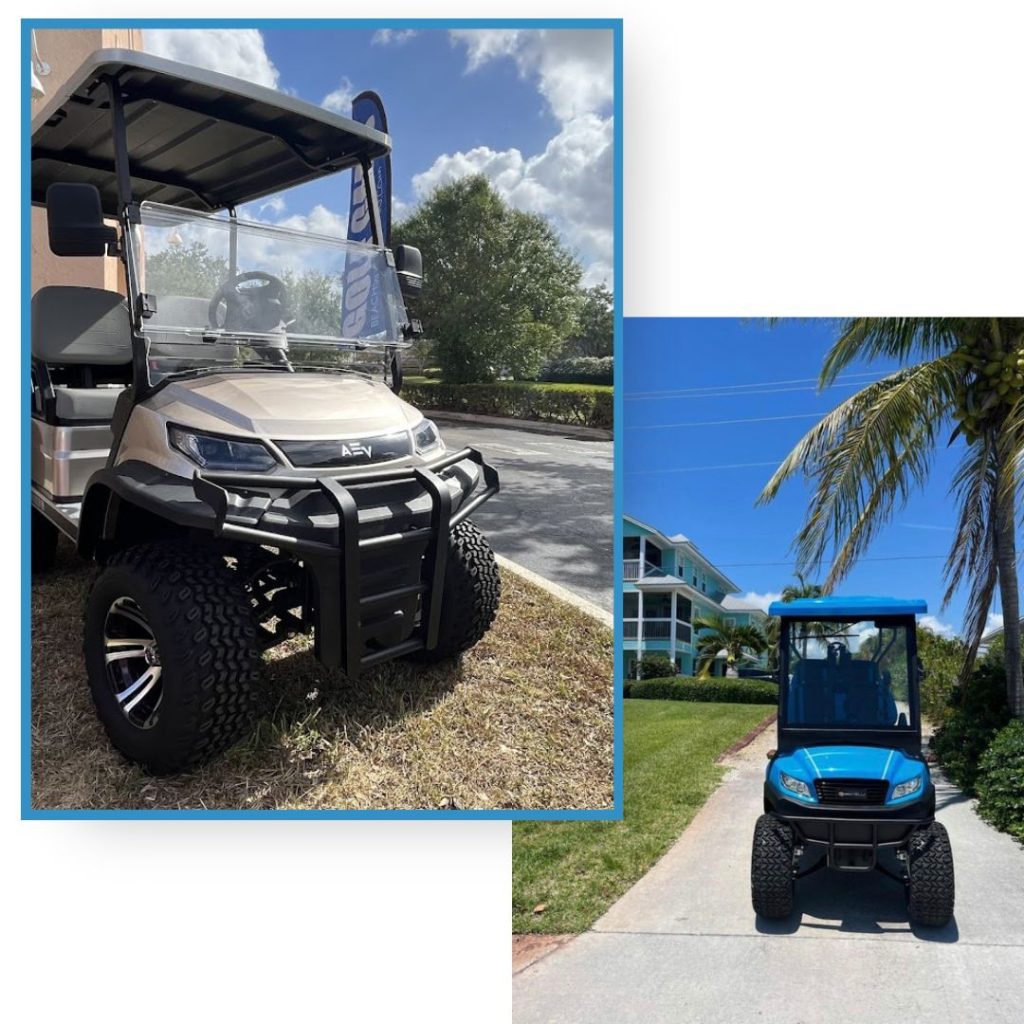 Prime Location and Convenient Access
Beachside Golf Cars' location in Port St. Lucie is a major draw for golf enthusiasts and property owners in the area. The dealership's strategic placement ensures easy access for both locals and visitors, making it a convenient stop for anyone looking to explore and purchase golf cars. Situated near prominent golf courses, we offer the advantage of test-driving the vehicles in a familiar environment, enabling potential buyers to experience the golf cars' performance on the fairways firsthand. Moreover, the central location allows Beachside Golf Cars to efficiently serve neighboring communities and provide timely delivery and maintenance services.
Comprehensive After-Sales Support
Beyond the purchase, Beachside Golf Cars offers comprehensive after-sales support, ensuring that customers receive long-term value and satisfaction from their golf cars. Our dealership's certified technicians provide expert maintenance and repair services, utilizing state-of-the-art equipment to keep the vehicles in optimal condition. Whether it's routine maintenance or addressing unexpected issues, customers can rely on Beachside Golf Cars for prompt and efficient service. We also stock a wide range of genuine parts and accessories, making it a one-stop shop for all golf car-related needs.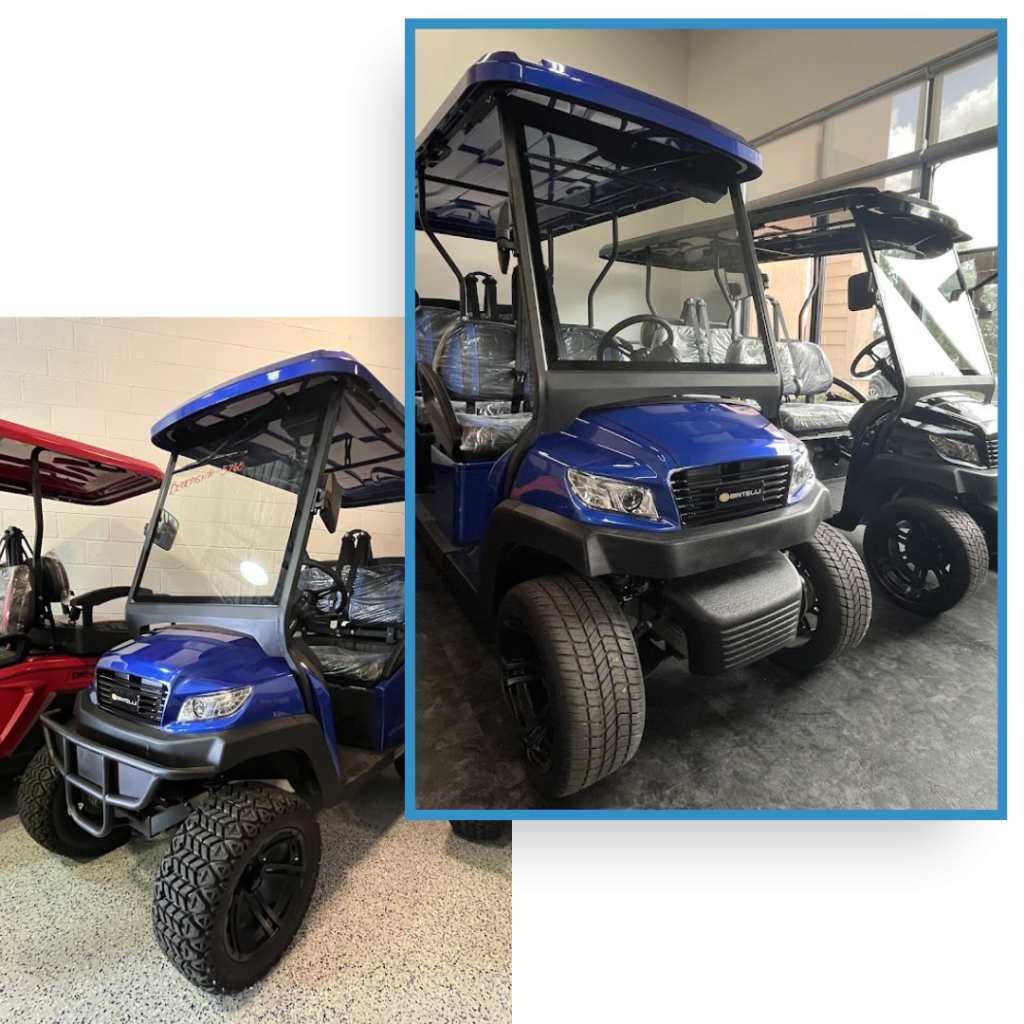 Explore our extensive inventory of golf cars that cater to all preferences and requirements. From sleek and modern designs to rugged utility vehicles, we offer an array of options to suit your unique needs. When you shop with us, we are confident we have something for every enthusiast.
Our knowledgeable team is dedicated to assisting you in making an informed decision. With a deep understanding of golf cars and their features, we will provide expert guidance to help you choose the vehicle that aligns with your lifestyle and expectations. Whether you're an avid golfer or seeking a convenient mode of transportation, we're here to help.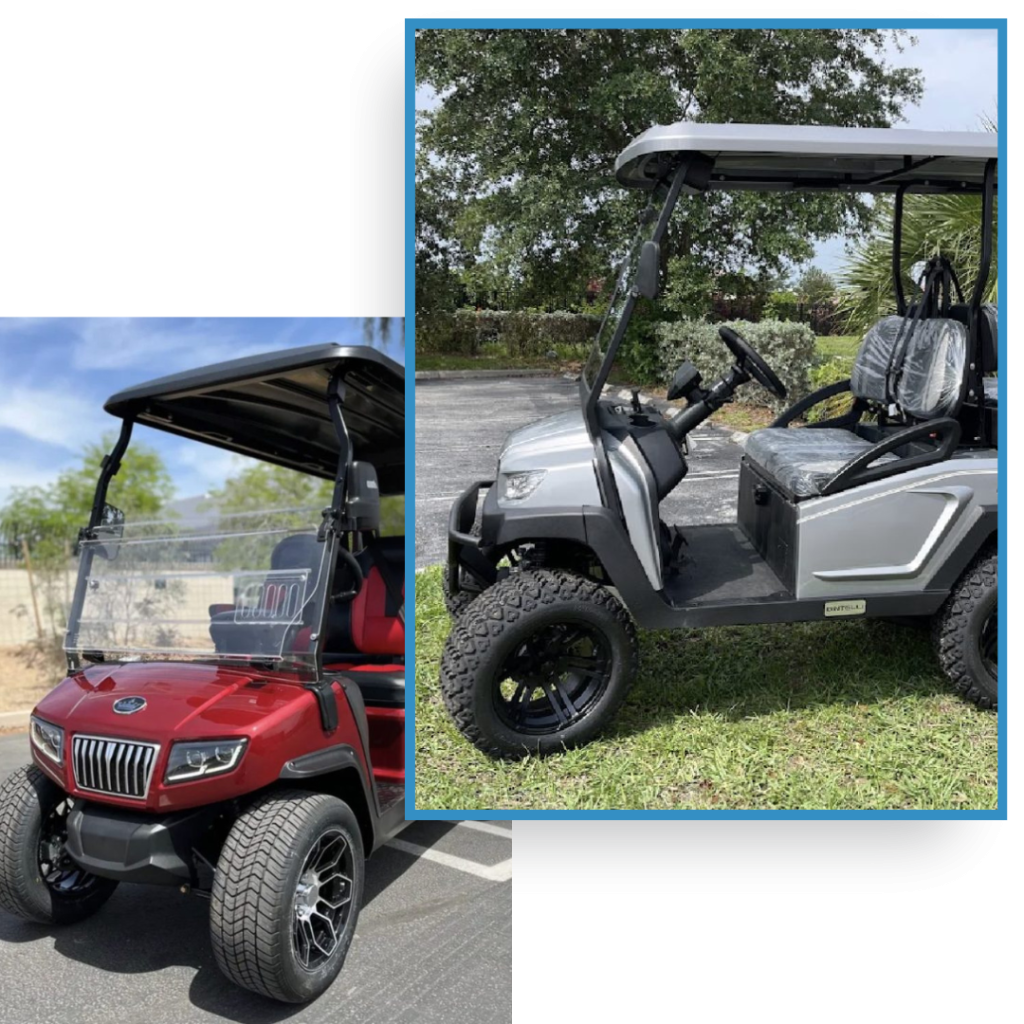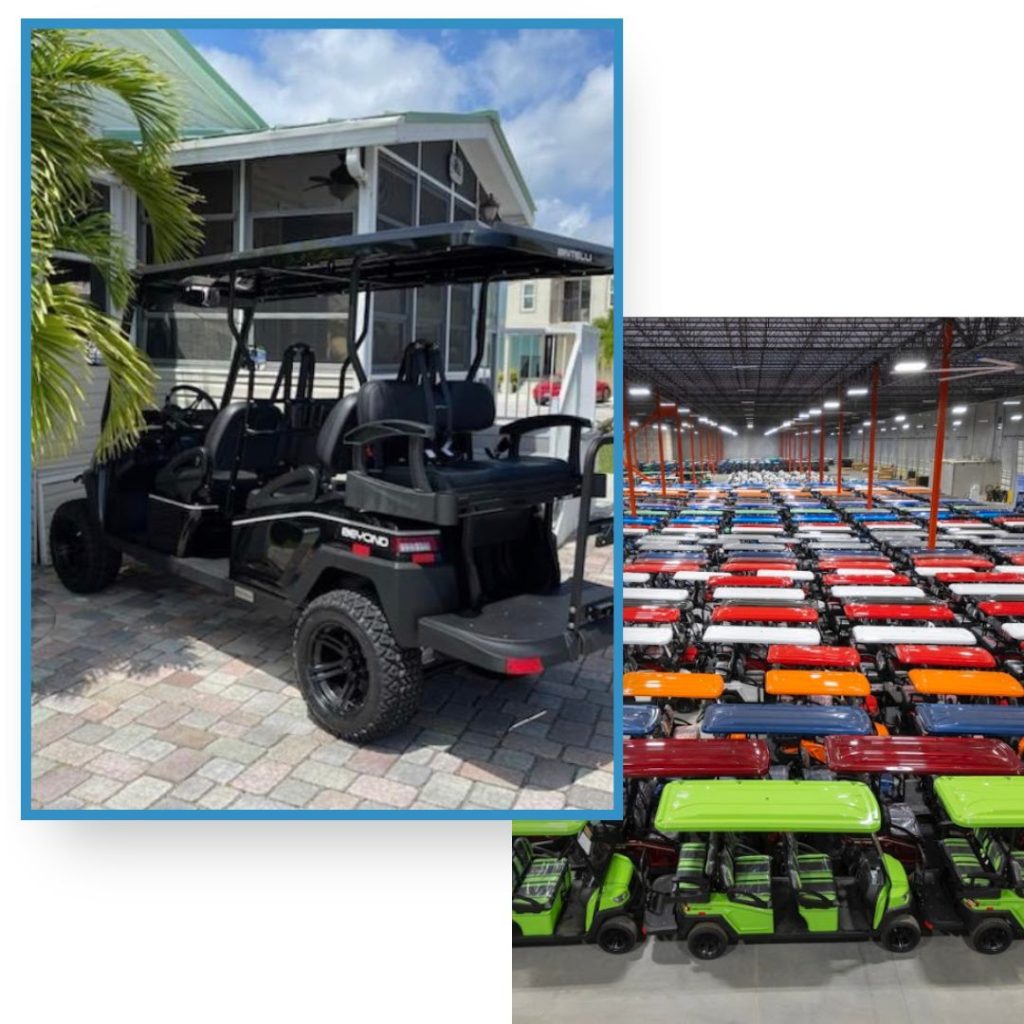 At our competitive pricing golf car dealership, customer satisfaction and affordability go hand in hand. We believe in providing the best value to our customers, ensuring they get top-quality golf cars without breaking the bank. Our commitment to competitive pricing means that we continuously monitor the market to offer the most attractive deals and discounts. We understand that cost is a crucial factor for our customers, and that's why we strive to provide transparent pricing, free from hidden fees or unnecessary markups. With our competitive pricing, you can be confident that you are getting the best possible deal on your golf car, allowing you to enjoy your favorite sport or personal transportation solution with peace of mind and financial ease
Customization Possibilities
Elevate your golf car experience by personalizing your vehicle to reflect your style and preferences. Our dealership offers a range of customization options, including colors, accessories, seating configurations, and more. Transform your golf car into a unique masterpiece that stands out on the course or in your community.
Exceptional Service and Maintenance
We're committed to maintaining the longevity and performance of your golf car. Our skilled technicians provide top-notch service, ensuring that your vehicle remains in optimal condition. Whether you need routine maintenance, repairs, or upgrades, our service center is equipped to handle it all efficiently and effectively.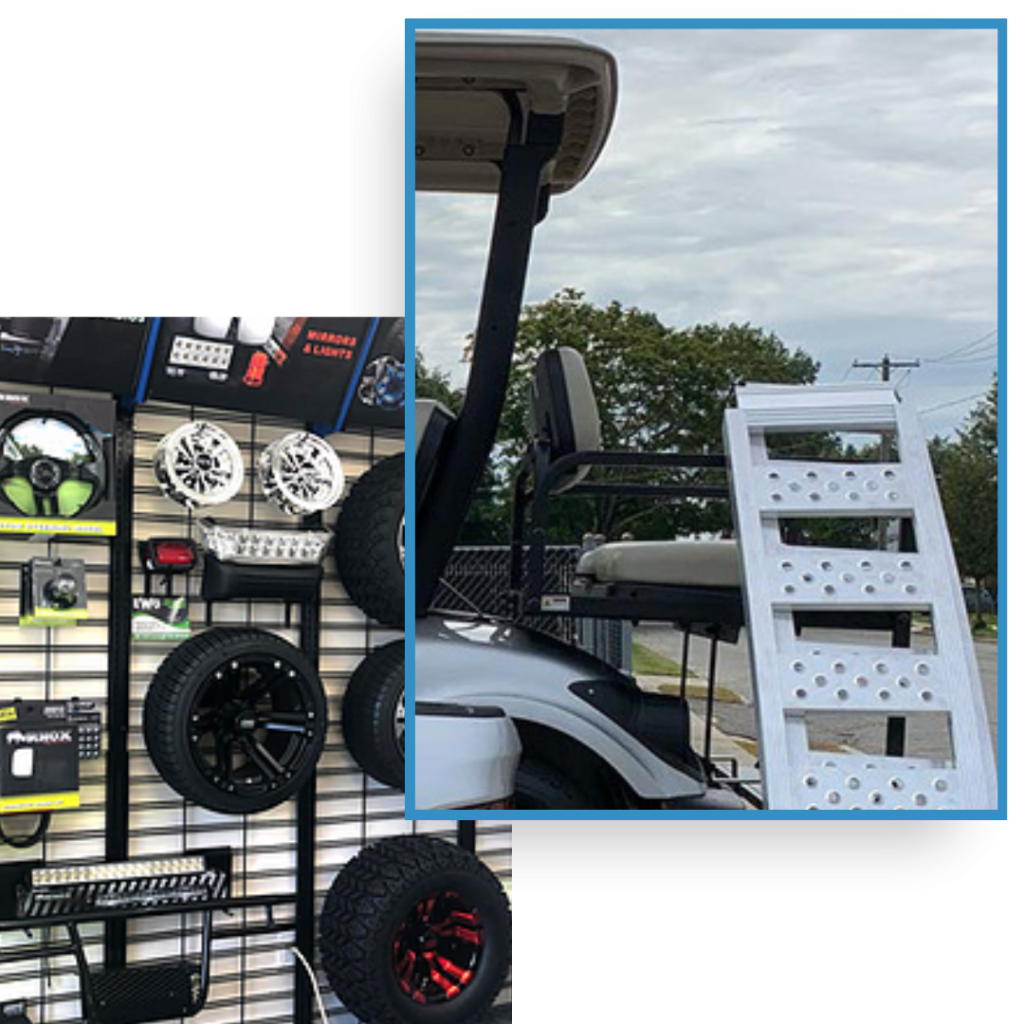 Choosing a reputable golf car dealer is essential for a seamless and satisfying experience when purchasing a golf car. Our specialized golf car dealer possesses in-depth knowledge and expertise in the industry, enabling us to offer valuable insights and guidance to customers. We provide a wide selection of high-quality golf cars, ensuring that customers can find the perfect vehicle to suit their needs and preferences.
We also place a strong emphasis on customer service, offering personalized assistance, addressing queries, and facilitating test drives for informed decision-making. Additionally, we offer comprehensive after-sales support, including maintenance services and genuine parts, ensuring the longevity and optimal performance of the purchased golf car. By choosing us, you can be confident in the quality of your purchase and enjoy the benefits of a reliable, stylish, and functional golf car for years to come.
Beachside Golf Cars in Port St. Lucie stands as the ultimate destination for golf enthusiasts and property owners seeking top-quality golf cars and exceptional customer service. With its prime location, convenient access to golf courses, unparalleled customer service, extensive selection of golf cars, and comprehensive after-sales support, our dealership continues to impress and delight its customers. Whether you are a golfer looking to enhance your playing experience or a property owner seeking efficient and reliable personal transportation, Beachside Golf Cars has the perfect solution to meet your needs.
Visit our Port Saint Lucie golf car dealership today to explore the finest selection of golf cars, receive expert guidance, and experience exceptional service. Discover the perfect vehicle to enhance your golfing adventures or make your local travels more convenient and enjoyable. We look forward to serving you and exceeding your expectations. Contact us at your convenience.